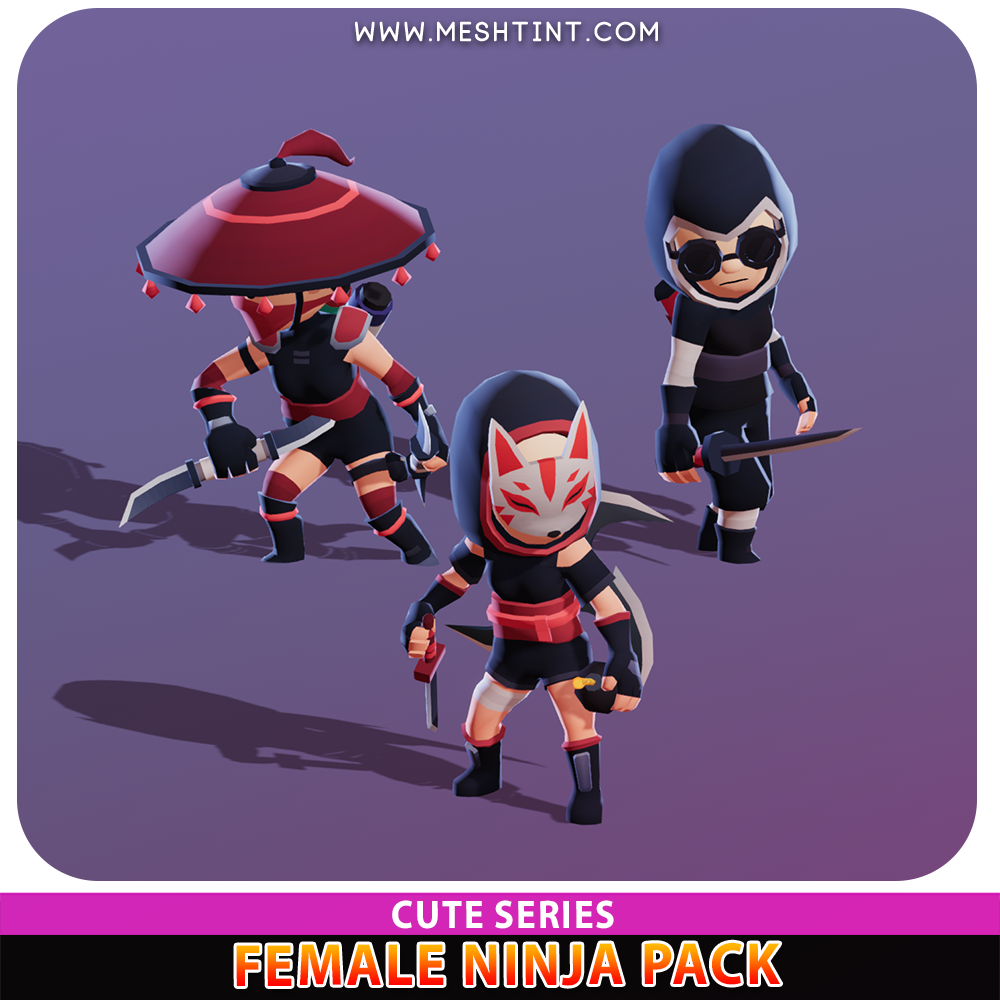 Contents: FBX, PSD and Unity package
Supported Unity versions: 2020.3.25f1 or higher
Like us on Facebook to get updates on new and free assets!
Follow us on Twitter to get first hand news on promotions and sales!

Cute series Introduction:

Cute series hero characters are modular and easy to use. Humanoid mecanim ready.

Cute Series 3D robots and monsters have 3 evolution forms. Check out the WIKI page here. 'Evolution 1' is the least evolved ( weaker) and 'Evolution 3' is the most evolved ( Most powerful). You can use it to show progression in your game!
It's a good addition for games like Pokemon, Tem Tem, Mario, casual / educational, tower defense, RPG games and more.

Cute series environments are modular and easy to use. Just drag and drop to the scene!

See Forum Thread

Female Ninja Modular Pack Cute Series

Cute series characters are modular and humanoid mecanim ready. Character's weapons and accessories can be shared among other Cute series (same sex) character packs!

This pack contains the following prefabs( including color variations. See preview images for more info):
30x base body ( 3 costumes x 5 color variations x 2 skin color)
Back prop prefabs: 5x dual swords, 5x dual swords cover, 3x scroll magic, 1x shuriken star, 5x single sword, 5x single sword cover.
Head dress prefabs: 10x hats, 1x fox mask, 10x hoods, 5x masks
Left weapon prefabs: 1x bomb, 10x daggers, 5x swords, 5x sword cover
Right weapon prefabs: 1x bomb, 10x daggers, 5x swords
Projectile prefabs: 2x shuriken, 1x bomb

It comes with the following free standard assets shared among all modular character packs in Cute series. The assets are:
3 standard faces with 5 color variations
5 standard hairs with 5 color variations
2 standard heads. Fair and Tan

Colors
Costume comes in 5 colors. Black, red, blue, white, purple.
2 skin colors. Fair and Tan.

Character Sample Prefabs
3 samples included. Female Ninja 01, 02, 03.

How to customize characters?
Simply drag base body prefab to the scene. Attach accessories to attach points. See tutorial in preview images for more info.

Shader. Material. Texture
Texture size is 2048 x 2048 ( set to 256 to 1024 in Unity) and file format is in PSD. Character's materials are using Unity standard shader. Most materials are using only 1 diffuse texture map

Polycount
Characters are considered low to mid poly. A fully customized character ( back props, weapons, helmet and full body) is about 2000 to 4000 triangles.

Animations
Characters are humanoid mecanim ready. You can share your own humanoid animations, animations from Unity asset store, or/and free animations from Mixamo with the characters in this pack.
5 basic animations are included in this pack. They are:

- Idle
- Walk forward in place
- Walk forward with root motion
- Run forward in place
- Run forward with root motion

Please see preview images and videos to know more about the content before purchasing.

The demo scenes in the package may require the following free assets. Please download and import them into your project.
1) Post Processing Stack v2

3D files are in FBX in the package. Additional fee may be required for other file formats.