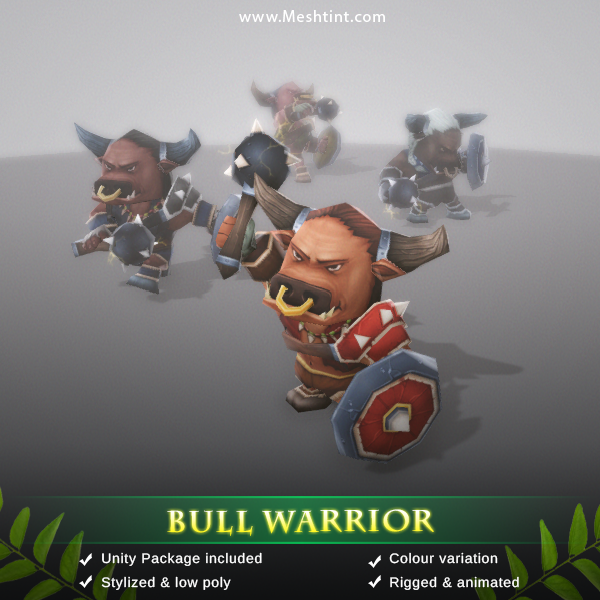 If you are using Unity, it requires Unity 2017.1.1 or higher.
Low poly Fantasy Bull Warrior
He is rigged and animated. Generic Mecanim set up. Textures are hand painted. Available in 4 colors. 17 animations. Total poly count is only 930 tris.Weapon's lightning Unity Particles is included.
See videos and images provided for model/animations preview.
Animations:
- Idle
- walk with root motion
- walk without root motion
- run with root motion
- run without root motion
- strafe right with root motion
- strafe right without root motion
- strafe left with root motion
- strafe left without root motion
- jump with root motion
- jump without root motion
- Attack01
- Attack02
- Attack03
- Defend
- Take Damage
- Die
Release Notes
Version
1.1 
- Added lightning fx to weapon 
- Added Generic Mecanim Rig set up
 - Improved walking animation
- Added Unity 5 package


- Change Legacy material to Unlit




- Added Trigger to Animator
1.3
- Upgraded to Unity 2017.1.1
- Removed legacy folder and files
- Added demo scenes
- Changed texture format TGA to PNG
- Added post processing profiles for demo
- Added walk and run with root motion
- Changed material from unlit to standard
- Added Strafe left and right with/without root motion
- Adjusted Bull warrior's run animation
- Adjusted Bull warrior's jump animation and added jump without root motion